Ryze Tello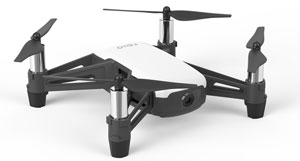 The super fun and tiny drone with 720p camera: Ryze Tello. Developed with the help of DJI (flight controllers) and therefore an unprecedentedly good drone for this format and price .. Need advices? We are happy to help you with your choice !
Flying time: 10 mins
Range: approx. 100 meters (Wi-Fi)
Speed: 29 km / h (Fast mode)
Camera: 5MP photos and 720p video
EZ Shots, 8D flips, programmable, VR mode
No GPS, no RTH, max. Height approx. 10 meters
``
1
Never miss anything ever again?