Information about drones
You can find even more information in our Helpdesk (with search function).
DJI Care Refresh: fast, inexpensive replacement in the event of a crash
A drone is a valuable device and an accident is in a small corner. Therefore, close Care Refresh on your drone . This "insurance" from DJI covers all damage in the event of a crash of your drone for a fixed low price. So you always fly with confidence!
Signal loss: I don't see anything anymore!
Depending on many circumstances, your drone will lose connection with the app at a certain distance. You often see this already in the video feed (transmission) in the app. This will first stutter and eventually disappear, because the signal is so weak that no more understandable data comes through. This is normally the sign for the drone to return. However, the signals for operating the drone are much simpler and require less "bandwidth" (signal quality). The app will ask you to use the Return To Home (RTH), and if you refuse this you will see that you can normally still operate the drone (but without video, so watch out for long distances). With the RTH button on the top left of the controller (press and hold) you can use the RTH at any time, or interrupt it with the pause button (red || sign).
More information about drones with Wi-FI can be found here: https://www.dronekenner.nl/dji-spark-faq-wifi-vragen-poor-image-transmission-connection/
Return To Home: how does it work?
During take-off, the app reports "the home point has been recorded", when there was a good GPS connection during take-off (note this). Also note the minimum RTH height that you can set in the app. The drone will first fly (up) to the minimum height (unless it is above) and then fly in a straight line to the HP at that height (or higher), and will land directly above the HP. Keep in mind that if the drone flies below anything and the RTH goes into effect, the drone will move straight up if it flies lower than the minimum set RTH height. Consumer drones are currently unable to detect obstacles in the upward direction (July 2018), which often leads to a (serious) crash.
How high can I fly in the Netherlands?
The maximum allowed height for drones in the Netherlands is usually 120 meters. In some areas, such as flying clubs, you can go up to 300 meters. The maximum height that you can set in the app is limited by DJI at 500 meters. It is possible to fly higher, but such modifications may (strongly) affect the warranty.
More information about legislation can be found here: https://www.dronekenner.nl/wetgeving/
OTG connection via USB: what can I do with it?
Some drones, such as the DJI Spark, can use a so-called OTG (On The Go) connection. This connects the phone and remote controller via USB and the Wi-Fi network is no longer necessary. The Wi-Fi connection between remote and drone will remain active, but because there is no other Wi-Fi source nearby, the signal improves considerably so that you will experience a stable connection and video feed for longer.
Dronekenner sells high quality OTG cables and adapters .
Some tip for your OTG connection:
Place the phone in flight mode before connecting / flying.
If the blue "Go Fly" is not visible in the DJI GO4 app: unplug the USB connector from your remote controller and then plug it back in.
Make sure you use the correct connections.

Spark controller: micro-USB
Mavic controller: micro-USB and USB-A
Phone / tablets: micro-USB, USB-C or Lightning (iOS / Apple)
Note: OTG is officially not supported (anymore) by DJI and you may need to install a previous firmware update to get the most out of your OTG connection. Whether it is worth missing the latest update against a more stable connection, we cannot advise and depends on the updates. Many people still buy and use OTG satisfactorily and personally we do not flywithout.
Update: OTG is working properly again in the latest firmware updates!
Your phone will not connect
Phone charge the remote controller
When you connect a USB accessory to your phone, the phone sets a USB option. Often this is automatically "Charging". However, to function correctly this option must be set to "Transer". The dialog to set this option can be found by opening (during connection) your phone's control panel (dragging down from the top of the screen) and looks something like this: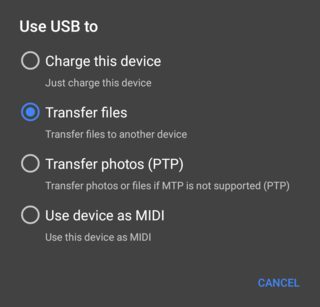 Pop-up window will not close
With some Android devices it happens that when you connect the phone / tablet via UB (OTG) cable to the remote controller (this applies to both Spark, Mavic Air. Mavic 1 and the Mavic 2 series remote controller) there is a dialog box appears if you want to connect with a check mark to remember this. The connection then fails and the box keeps on showing up (and doesn't want to leave) making it impossible to fly.
Various users have solved it in the following way:
Activate Developer mode on your phone / Android.

Search for Settings> About device> Build Number
or Settings> System> Phone Info> Build Number
Tap the number (build number) 7x (a joke)
After a few taps, it will count down, continue until it activates.

Develop mode is now activated.
Scroll down until you see Debugging
Check the box "USB debugging"
Scroll down until you see "Select USB Configuration" and click on it
(Sometimes this is also something with Charging / Charging)
Select the RNDIS (USB Ethernet) setting
The USB accessories (telephone tablet) should now work properly and the dialogue should no longer appear, or once only after which you can indicate that you no longer ask for it. Sometimes, unfortunately, this setting is not permanent and must be reset after every restart of the mobile device