Ryze Tello Drone Boost Combo
Now even more fun with the TelloFPV app
With the new TelloFPV app from Volate! Lo you have much more control over your Tello. This app gives you ao Return To Home (RTH), Point of Interest (POI), 360 panorama photos, and much more., Which were previously not possible with the original app from Ryze. That way you almost feel Tello like a real DJI drone. You can download the app as a free demo and full version:
Free demo version TelloFPV
Full version TelloFPV € 5.49
Ryze Tello - super fun / stunt drone with camera. Powered by DJI.
New! Fly for longer with more accessories with the new Ryze Tello Boost Combo
With the Tello Toy Drone you can easily master the control and programming of a drone. The Boost Combo contains a charging hub incl. 3 batteries with which you can fly for approx. 39 mins. The DJI Tello is the smallest drone ever from the DJI stable. The Tello has been developed together with the Ryze company as the smartest and most stable small drone ever. Everyone can operate the Tello thanks to the impressive hardware from Ryze and the super advanced flight controllers from DJI. Performing stunts, compatibility with a VR headset, super fast cinematic shots with EZ shots and even the possibilities to program yourself. It is possible with the Tello camera drone from DJI and Ryze.
This is the smallest, most advanced DJI camera drone ever!
Game controller as remote controllers
Please note: The Ryze Tello is supplied without a remote controller. However, it is possible to connect certain Bluetooth game controllers (game pads) and use them as remote controllers for the Ryze Tello. Currently, the game controllers from GameSir (T1d) and GameVice are (guaranteed) supported. We will soon provide a list of compatible game controllers and will offer the best in our webshop. Keep an eye on our newsletter for this.
Problems connecting the GameSir? Then read this page with instructions.
How do you connect the GameSir to the Tello via Bluetooth?
Wil je GameSir niet via bluetooth met je telefoon verbinden? Dat klopt. Verbinden van de GameSir T1 controller en de Tello via bluetooth kan niet via de bluetooth dialoog van de telefoon. Dit kan uitsluitend via de Tello en TelloFPV app. Lees hier verder voor gedetailleerde instructies.
Do you not want to connect GameSir to your phone via Bluetooth? That's right. Connecting the GameSir T1 controller and the Tello via Bluetooth is not possible via the Bluetooth dialog of the phone. This is only possible via the Tello and TelloFPV app. Read here for detailed instructions.
Tello app in Chinese?
When using the tello app for the first time, the app is in Chinese. To get the app in English, you must put your mobile device in English, then you must open the app on your mobile device, run any updates and then you can put your mobile device back in your own desired language.
Features Ryze Tello
Super small!
HD 720p video camera
13 mins flying on one battery (€ 25)
Separate snap-on covers in colours: yellow, blue and white (€ 10)
Suitable for use with Bluetooth game controllers, including GameSir and GameVice
Throw = fly
8D flips (stunts)
An optional remote control
STEM coding
Why buying from DroneKenner?
See more than 70 reviews with 5/5 stars from super satisfied customers:https://www.facebook.com/pg/dronekenner/reviews/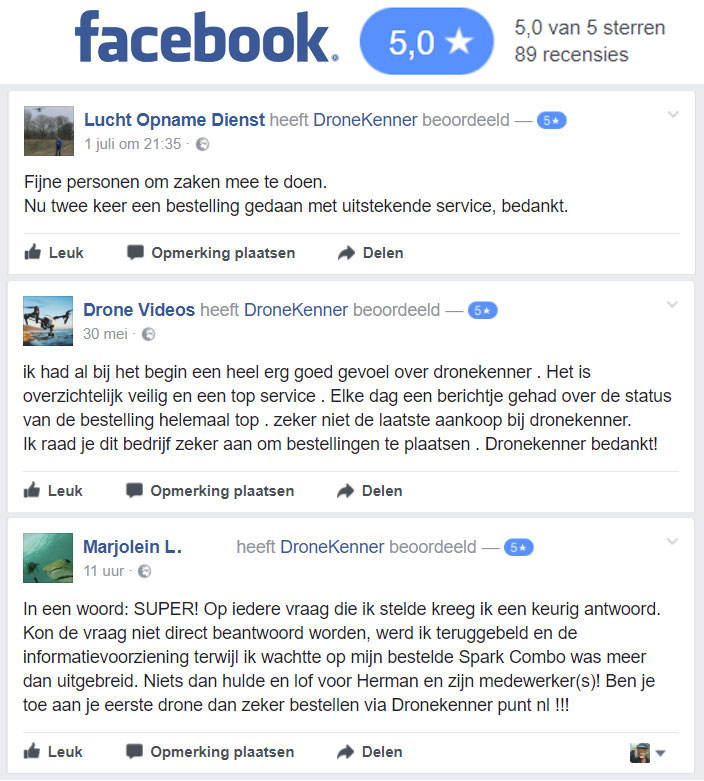 Always personal service. We are immediately ready for you.
Call us without obligation for a pleasant conversation with a true expert: someone who has flown this drone for hundreds of hours and can answer all your questions like no other.
Call 0031-85-3012306 (we almost always answer or call back within 30 mins)
Mail to [email protected] (response within 60 minutes)
or chat with us (response within 5 minutes)
That's why DroneKenner
We are specialized in DJI drones and have been flying for a long time. Feel free to call with all your questions.
We do not sell computers or clothing / furniture next to it. We focus and know what we are talking about. You are most welcome if you have a question or problem.
Our office is located in Rotterdam (and warehouse in Nieuween) where you can pick up by appointment.
Transparent and current information about deliveries through our newsletter.
Proven fast and reliable with pre-orders of the latest DJI products through our extensive network of importers at home and abroad.
Excellent reviews from many satisfied customers: https://www.facebook.com/dronekenner/reviews/
Canceling and returning is no problem with us!
You can cancel your (pre-) order at any time without giving a reason. Still not satisfied? You can return free of charge up to 14 days after purchase and we will send you a free return shipping label. Read the conditions for returning products.
Technische specificaties (drones)
Max. bereik (CE)
Het maximale bereik van jouw drone onder CE.
Let op: onder FCC kun je verder vliegen maar je drones kiest automatisch CE of FCC op basis van lokatie. In Europa geldt CE. Hoe je toch om kunt schakelen naar FCC kun je vinden via Google

Positioning (P) - normale bediening & snelheid ,
Sport (S) - maximale snelheid & manoeuvreren
Bounce - snel op en neer bewegen
Throw & Fly - werp in de lucht om te vliegen
Circle - de drone maakt een opname in een cirkel gericht op een vast punt
Find similar
Store and address
Working hours
Phone
Availability
Nieuwveen
09:00 - 17:00
+31853012306
Out of stock
Nieuwerkerk aan den IJssel
Showroom
's-Gravenweg 332A, 2911 BK Nieuwerkerk aan den IJssel
10:00 - 17:00
+31853012306
Out of stock
DO YOU HAVE FURTHER QUESTIONS?