PGYTECH Phone Holder Set for DJI Osmo Pocket
The Phone Holder Set from PGYTECH makes it possible to combine your smartphone with your DJI Osmo Pocket Camera, tripod and accessories such as a microphone or LED lamp. With this mount you can easily attach the Osmo Pocket to your smartphone, tripod and accessories, so that you have a complete set-up in one hand. Perfect for filming or vlogging! The Phone Holder Set has a ¼ screw thread on one side and a Cold Shoe connection on the other side. The holder is made of aluminum, which ensures a light weight (56 grams) and an unprecedented durability.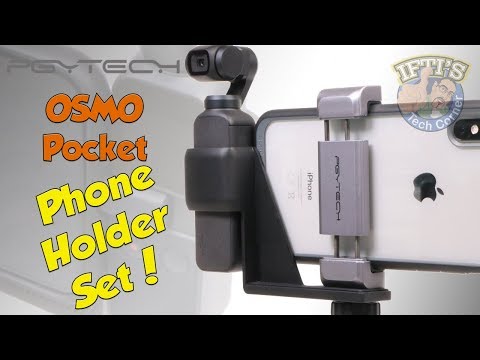 DJI OSMO Pocket Phone Holder Set - PGYTech - Secure OSMO to your Phone!
The OSMO Pocket mobile bracket can effectively fix the OSMO Pocket with a mobile phone avoiding damaging the data plug. At the same time, it allows expanding the capabilities with a camera light, a microphone, a tripod, or any other equipment that can be connected through the cold shoe and the 1/4 mount! Create a mobile camera rig!
Fabrikant code:
P-18C-027