PGYTECH monitor hood zonnekap voor telefoons / tablets - 270mm ±13"
PGYTech monitor hood universal (lens hood for phone / tablet)
Do you also find this annoying? The weather is nice and clear and you want to fly with your drone, but because of the bright sunlight you hardly see your screen while flying and it is difficult to keep your drone in sight! Not exactly pleasant and very disturbing, and possibly even annoying. This is a thing of the past with this Monitor Sun hood from PGYTech!
How do I choose the right size?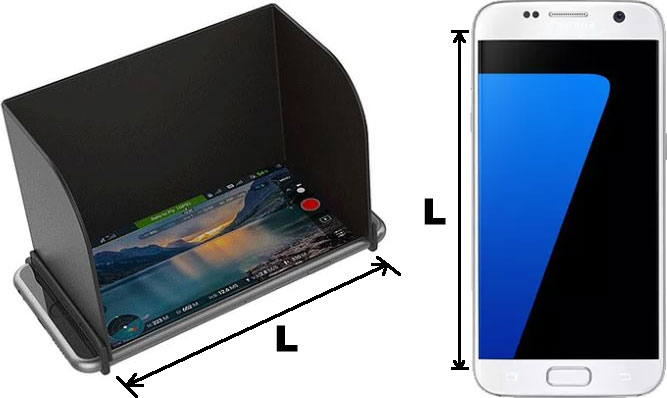 The L size represents the number of millimeters between the upright / right-angle flaps of the monitor hood. This size should be at least equal to the length of the screen of your mobile phone / tablet and slightly smaller than the total length of your mobile device. Keep in mind that these monitor hoods do not always fit optimally for your tablet. Measure the length of your screen (or actually the part of the screen used to display the DJI GO4 app) and compare it with the dimensions of this monitor hood. Choose the hood (Lxxx) that best matches the length of the size. The diagonal size in Inches unfortunately does not say enough about whether or not these hoods fit optimally and is strongly dependent on the length / width ratio of your screen.
View tab "Technical specifications" for an overview of the (screen) dimensions and suitable devices.
The PGYtech Monitor Hood for mobile phones and tablets creates an artificial shadow so that you can see the screen of your Apple iPhone / iPad or Android phone / tablet in bright sunlight. This means you no longer have to turn your body in the sun or find another source of shade. Not always pleasant and you can lose sight of your drone.
But you no longer have to with this high quality monitor hood (lens hood) for phones and tablets. The high raised edges create a good shadow, making the screen much more visible in almost all circumstances. This allows you to focus 100% on operating your precious DJI drone, and you have an optimal view of the screen so that you don't miss any important information.
These monitor hoods are available in different sizes based on the screen size of your mobile device. Compatible with all DJI drones, remote controllers and accessories.
Features PGYTech monitor hood (lens hood)
Always a good view of your screen and therefore your drone!
High quality materials and finish
Sturdy flexible mounting that stays in place
Compatible with many mobile devices
Well-known PGYTech quality: always good!
Note: Read instructions below to determine the correct size
Find similar
Store and address
Working hours
Phone
Availability
Nieuwveen
09:00 - 17:00
+31853012306
Out of stock
Nieuwerkerk aan den IJssel
Showroom
's-Gravenweg 332A, 2911 BK Nieuwerkerk aan den IJssel
10:00 - 17:00
+31853012306
Out of stock
DO YOU HAVE FURTHER QUESTIONS?