50CAL OTG cable 30cm USB-C >> Lightning (iPhone / iPad) power / data / video (including Mavic Air 2)
Transmits power (max 2A) and data, so suitable for almost all mobile applications and devices.
Connect your phone or tablet directly to DJI Mavic Air 2 , DJI Mini 2 DJI Osmo Pocket & DJI Osmo Action to copy or move data, photos and videos. This is much easier to use than the micro-SD card .
30 centimeter long USB (OTG) cable with a USB-C plug for the remote controller or other device and a USB-C, Lightning or Micro-USB (B) plug for your phone or tablet (mobile device).
Suitable for almost all screen holders ( tablet and telephone ) for which the supplied DJI USB cables are too short.
Suitable for connecting mobile devices and navigation systems with other devices with suitable USB or Lightning connections.
Connect the remote controller of your DJI camera drone to your phone or tablet.
Not suitable for DJI Mavic Mini , DJI Spark, DJI Mavic Air (1)
Works perfectly with any Apple mobile device. Note: this cable is not MFi certified as it triples the price and works fine without it. Your device may give you a warning that the connected cable is "Not MFi Certified", but it works fine anyway.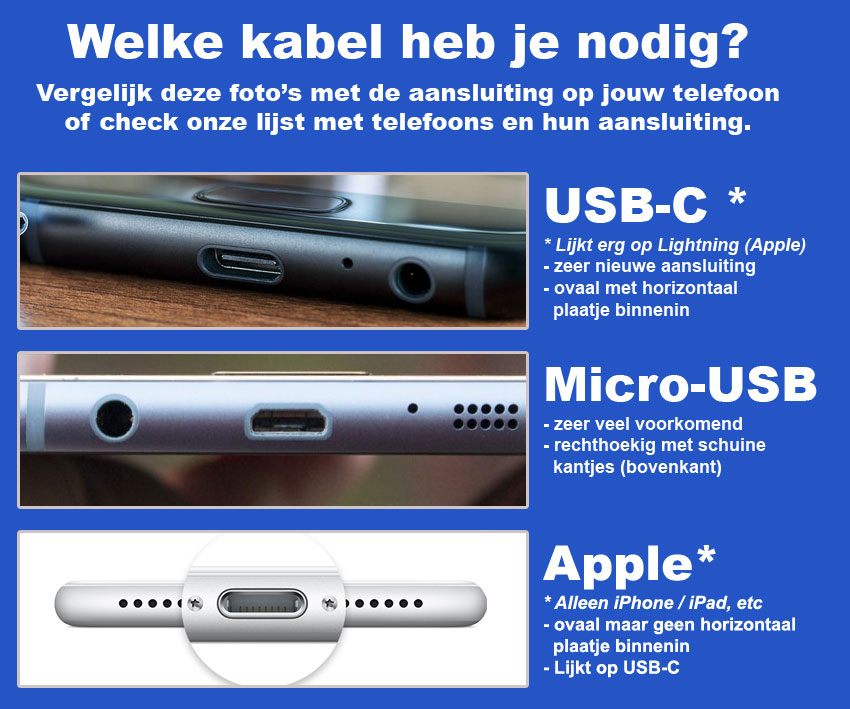 USB OTG data cable 30cm: transfer data and transfer power effortlessly
For drones: with this OTG cable you greatly improve the range of certain DJI drones with camera (eg DJI Spark and Mavic Air 1) and the quality of the live (FPV) video feed that you receive on your mobile device. The second Wi-Fi network between phone / tablet and remote controller disrupts the Wi-Fi connection between drone and remote controller. By replacing it with a USB connection, the signal improves considerably.

For screen holders: do you fly your drone with a tablet holder or phone holder? Then the included USB OTG cable is too short. Our 30 centimeter long USB OTG cable is therefore perfect because it fits with all known screen holders!

For electric bicycles and navigation: these cables are suitable for transmitting power from the batteries of electric bicycles to navigation computers and navigation systems.
Product type:
USB / OTG cables & adapters
Welke USB aansluiting heeft uw mobiel/tablet:
Lightning (Apple iPhone / iPad)
Reviews 50CAL OTG cable 30cm USB-C >> Lightning (iPhone / iPad) power / data / video (including Mavic Air 2)
Write a review